Louis MONNIER, Montpellier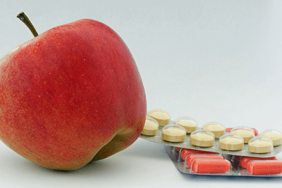 Systemic vitamin and mineral supplements are widely used for the prevention of both cardiovascular, cancer and chronic diseases. This practice is especially expensive for those who use it: $50 billion is spent in the US on various vitamin and mineral supplements.
Does this mean that there is a "healthy" rationale for this lucrative market, based on the following: – in theory, vitamins and minerals have antioxidant and anti-inflammatory effects that should counteract the development of cancer and cardiovascular disease; – the consumption of fruits and vegetables is traditionally associated with a reduction in the risk of these 2 groups of diseases. To put it more banally, followers of dietary supplements usually do this to improve their "feel good". This health goal is more or less hypothetical, since it is far from obvious that vitamin or mineral supplements in tablet form have the same properties as the same vitamins or minerals taken from natural food, that is, related to other nutrients that enhance their action . To answer the question of the usefulness of vitamin and mineral supplements in the prevention of cancer and cardiovascular disease, the US Preventive Services Task Force (USPSTF) has just published recommendations based on a review of 84 studies involving 739,203 subjects. All of this was published in JAMA along with 2 editorials. USPSTF-sponsored study Global analysis of multivitamin supplementation (Figure) shows no effect on all-cause mortality (OR = 0.94, 95% CI: 0.87 -1.01) and cardiovascular events (OR = 0.98, 95% CI: 0.86) -1.12). Multivitamin supplementation was associated with a reduction in cancer incidence that reached statistical significance (OR = 0.93, 95% CI: 0.87-0.99). When the analysis is performed specifically with a well-individualized vitamin or mineral, the results show no beneficial or harmful effects, except for beta-carotene supplementation, which is significantly associated with an increased risk of lung cancer (OR = 1.20). , 95% CI: 1.01–1.42). Even more specific analyses, limited to certain studies, found that vitamin E supplements may increase the risk of stroke, while vitamin C and calcium supplements increase the risk of bladder stones. Vitamin A supplementation has been reported to be associated with femoral neck fractures. As for vitamin D, which is often given indiscriminately, it is not associated with any beneficial effects. All-cause mortality, cardiovascular events, and cancer. Comparison (odds ratio) of subjects receiving multivitamin supplements (1). USPSTF Recommendations As a result of this study, the USPSTF has updated its previous recommendations, which were published in 2014. • The USPSTF does not support the use of beta-carotene and vitamin E supplements to prevent cardiovascular disease and "D-statement" cancers. • The USPSTF concludes that there is no evidence to support the use of multivitamin or monovitamin supplements for the prevention of cancer and vascular disease "I-Statement". However, this "I-statement" (a recommendation that is binding only on the authors) reminds us that vitamins A and E can have harmful effects. It goes without saying that these recommendations are for prevention only, and vitamin or mineral supplements become necessary for treatment purposes when there are clinically or biologically proven deficiencies. Two editorials One of the authors of the editorial (Peter A. Ubel) points out that the USPSTF work is an excellent synthesis that proves that many subjects are mistakenly convinced that vitamin supplements have beneficial effects. These beliefs are largely based on the placebo effect of vitamin supplements. Individuals who use these supplements attribute a sense of well-being to them based on claims that have no scientific evidence. The authors of the second edition emphasize that these vitamin and mineral supplements are unnecessary and expensive, and regret that they are not evaluated in the same way as other drugs. In addition, they emphasize that in order to prevent cancer and cardiovascular diseases, it would be better if people respected the rules of a healthy diet ("Health eating" in Anglo-Saxon), avoid being overweight and smoke, rather than reaching for expensive vitamin and mineral supplement solutions without positive effect. In other words, the choice becomes a psychological, social, economic and political one between easy, expensive and ineffective solutions and inexpensive, troublesome but effective ones. Are populations ready for the second option rather than the first. This is the question? Published by Practical Diabetology
Please note, for regulatory reasons, this website is intended for healthcare professionals.
Register for free to see more.
If you are already registered,
Login:
If you are not yet registered on the website,
Register for free: